DOWNLOAD VIDEO DIRECTLY TO YOUR DEVICE HERE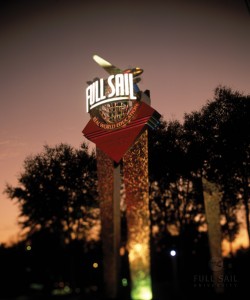 Full Sail University embraces "creativity, imagination, and original ideas" for students who are interested in entertainment and media careers. With over 8,000 students coming from 65 countries worldwide, Full Sail welcomes international students to the sunny Florida area, despite the city name Winter Park.
Students seeking an undergraduate degree in communications should consider Full Sail University. The university's Media Communications bachelor's program offers curriculum and areas of focus that cater to the current communications industry and change with the industry at a quicker pace than other universities offering communications programs.
Writing and Visual Communications
This area of focus concentrates on the  design, writing skills and communication styles needed for different audiences. Courses may include Graphic Design and Communications, Web Design Principles and Practices, Media Psychology, Media Anthropology, and Media Law and Telecommunications Policies. Most businesses in entertainment and media careers look for employees with strong communication skills, which is why Full Sail puts this focus in a top priority.
Digital Audio & Video Production
Exploring technology and techniques involved in producing and editing digital audio is at the focus of this area. With classes such as Digital Audio Applications and Digital Video and Editing Principles, students will learn how to produce and edit news stories to effectively tell a story. Broadcast journalism students will benefit from the courses provided in this area of precedence for the university.
New Media Tools
This area of focus teaches students about media convergence. Since all entertainment and media careers have experienced the affects of media convergence in some form, this focus is one of the most important of the communications programs offered at Full Sail. Students will learn how to effectively navigate social media sites to their career advantage as well as how to write blogs, consumer review sites, create mobile applications, etc. In classes such as New Media Journalism and Communications, and Media Communications and Public Relations, journalism and public relations students will learn how to use new media to connect with audiences.
Transmedia Storytelling
Because of the recent connection and integration of entertainment media between brands, organizations and products, a story can "live and develop across multiple channels." In courses such as Overview of the Gaming Industry and Animation and Storytelling, visually driven entertainment media is at the focus, as well as their stories and narrative.
With its unique communications programs and passion for innovative industries, Full Sail University in Winter Park, Florida strives to help its students succeed in all aspects of their entertainment and media careers. The well-rounded and modern Media Communications bachelor from Full Sail University will help students prepare for the ever-changing world of communications.